Who in their right mine would spend 5 days camping in the blazing near-100-degree heat of Tennessee? Me, of course. Me and 85,000 others - at Bonnaroo of course! I suffered (expect not really because it was a BLAST) because I got to see The Black Keys, Mumford & Sons, Arcade Fire, Florence + the Machine, the Decemberists, Beirut, Robyn, Freelance Whales, Greensky Bluegrass, Pretty Lights, Bela Fleck & the Flecktones, Bassnectar, Lil Wayne, Alison Krauss, Portugal. The Man, Buffalo Springfield, Iron & Wine, Explosions in the Sky, and Widespread Panic. After a whole weekend of listening to music, I had to steal my giant speakers back from my little brother to continue the experience. As hot as it was, it really was such a perfect vacation being able to camp with your friends, meet new people, and of course chill out and listen to fantastic bands.
My biggest complaint about the weekend was how crowded it was. It's great to share an experience with 85,000 people but the lines were frustratingly long this year, and a lot of people weren't there with good intentions. I was shocked at how often we got ripped off... at a smaller festival, that would never happen.
Top: borrowed / Shorts: thrifted / Purse: borrowed / Sandals: F21 / Bikini: Fossil / Hat: flea market / Feather earrings: UO / Sunglasses: Free People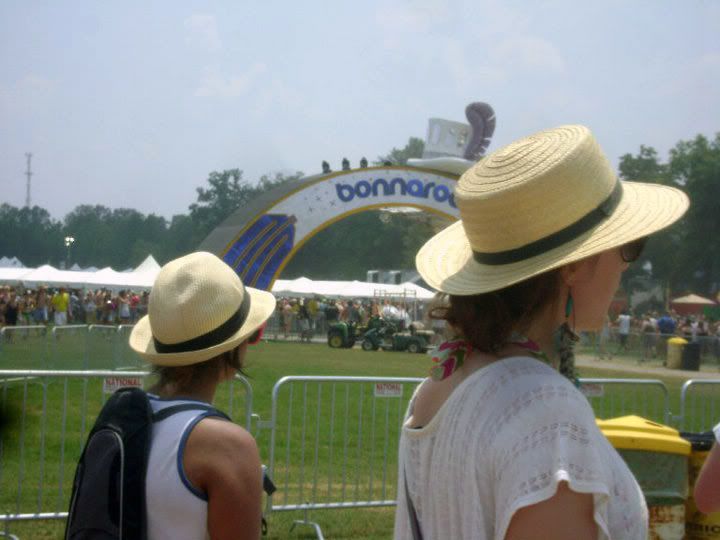 On the way in!
Tons
of amazing jewelry vendors.
One of the many walls of graffiti art at Roo.
Ponies are a hell of a lot cuter than cop cars.
Yeah, our tent was a little ridiculous...
The flag that led us home
The campsite!
A typical Bonnaroo sight - musicians on their cars.
ARCADE FIRE!
Pretty Lights (a dubstep DJ who put on one of the best shows I've ever seen)
When you stay out til sunrise, Bonnaroo gets a little eerie.
Currently listening to: Mumford & Sons
Currently reading:
The Curious Incident of the Dog in the Night-Time
by Mark Haddon
PS My family's black lab, Tucker, is chasing a bumblebee around the yard and it's pretty adorable. We're heading to TX tomorrow for my grandfather's 90th and a family reunion. Family would be the only reason to travel to Salado, TX (population: 3,475) but maybe I'll find it charming!